The PREMIUM firewood supplier in the Lowcountry!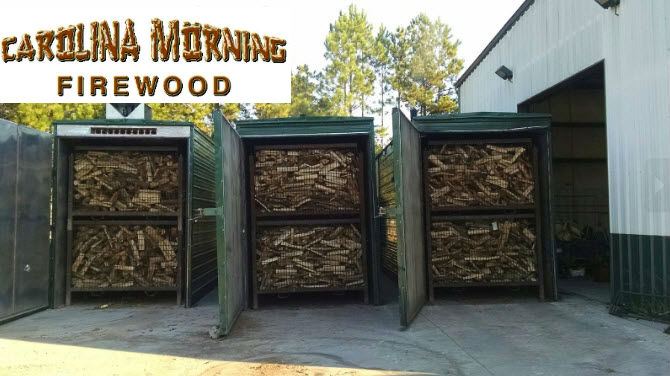 Why buy Kiln Dried Firewood?
* Kiln Dried Firewood is consistently dried to 15 to 20% moisture content – every time.
There is no standard for seasoned firewood. Generally, well seasoned firewood has a moisture content of about 30%, however that varies upward significantly from dealer to dealer, and especially well into firewood season as many dealers start to sell "less seasoned" wood.
* The Kiln drying process takes about 48 hours, and heats the wood in a chamber at 250 degrees.
The firewood goes directly from our state of the art Firewood Processor and Tumbler cleaning process directly into baskets that are inserted into one of our firewood kilns.

The moisture extraction is computer monitored and controlled, and removes over 1,000 pounds of water per cord from the firewood.

The computer controls when moisture is exhausted from the Kiln to maximize drying, and measures the internal temperature of the wood to ensure compliance with USDA certification requirements.
* No bugs, insect larva or mold on Kiln Dried Firewood – Who wants bugs crawling out of their firewood sitting next to the fireplace?
Compliance with the USDA certification requirements insures that bugs, larva and mold are killed in the kiln drying process making the firewood safe to store in your garage, porch, deck or home if you desire.

Kiln Dried Firewood never touches the ground after full sized logs are loaded onto our Firewood Processor. The wood goes directly from the 

splitting process into the kilns, and then is stored inside our warehouse until ready for shipping.

Moreover, no Kiln Dried Firewood is shipped more than thirty days after splitting; therefore it is clean, dry and ready to burn when you receive it.
* Kiln Dried Firewood creates the best fireside experience.
Easy to start because the wood is dry – you'll love that!

Higher BTU (heat) output because heat is not being wasted to boil out water – we've all heard the hissing sound of burning firewood that was wet.

Much safer for your chimney – Kiln Dried Firewood burns cleaner with less smoke, ash and creosote buildup in your chimney.
* Seasoned firewood is much less desirable in the Lowcountry than "Up North".
Seasoning firewood to the most desirable moisture content means leaving it out in the open for six to twelve months. In the south, we have a lot more rain and higher humidity than "Up North".

These conditions are ripe for further insect infestations, and growth of mold as the wood seasons. "Up North" where it gets well below freezing for a large part of the winter, many insects are killed or their spread slowed down – that does not happen in our area.
100% Money back, no questions asked, Guarantee on Kiln Dried Firewood
Carolina Morning Firewood provides our customers with a "no questions asked" 100% money back guarantee on our firewood within four weeks of delivery. We will pick up and refund the amount paid for all unused firewood if you are not fully satisfied with our product.
To make this guarantee however, we will only deliver Kiln Dried Firewood for our residential deliveries. This way, we know that our product will satisfy the most discriminating customers.
Kiln Dried Firewood Delivered and Stacked – From Carolina Morning Firewood!