RESIDENTIAL DELIVERIES
Carolina Morning delivers only Kiln Dried Firewood to residential customers. This permits us to offer our 100% money back guarantee because we know our Kiln Dried Firewood is consistently a superior product. Seasoned firewood is also available for pick up at our Firewood Lots.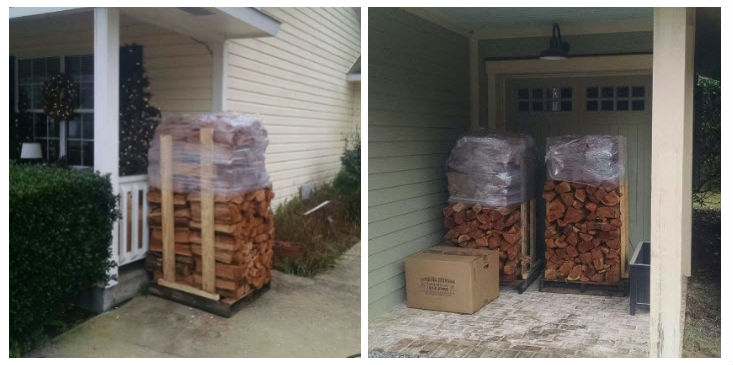 Kiln-dried firewood is delivered pre-stacked and wrapped on an Eco pallet.  The pre-stacked pallets save you from having to carry and then stack loose wood.  Pallets can be placed in your driveway, garage/carport, side yard or other locations accessible to our custom pallet relocater just as long as we have a hard surface on which to move.  (40″ width clearance needed). An Eco Pallet is 32″ by 32″ by 54″ tall. Each Eco pallet contains about 210 to 230 pieces of firewood and is just under 25% of a Full Cord.  The Eco Pallet is designed to fit through most gates, doorways, etc.
** We will also re-stack your firewood where you want it for a fee of $27 per pallet delivered, This fee may be paid at the time of ordering on our web site, or when our customer representative calls, or to our delivery specialist.
Residential pricing is as follows:
One Eco Pallet – $183
Second or more Eco Pallets on the same delivery – $175 each
Starter kit of Kiln-dried starter wood, and starter sticks – $18.
Re-stacking fee – $27 per Eco Pallet.
Gated Community Fees:  Gated community fees continue to rise, and in some cases, represent more than half of our gross profit on a firewood sale.  Additional restrictions such as a community restricting a season pass to only one of our delivery trucks complicates our delivery process, and results in gate pass fees even where we have bought season long passes.  Thus, we must reluctantly charge for gate pass fees.
For communities where we have season passes, we charge $5 to recover the cost of the season pass and/or the cost of a gate pass where we must use a different truck than the truck for which the pass was issued.  In communities where we have not purchased a season gate pass, because of additional restrictions, high cost or not enough deliveries within such community to justify it, we will charge the actual gate pass that we are charged. 
Recommendation – sometimes a community will let us thru without paying a fee if a resident calls ahead to the gate.  In such a case, we promptly will refund the gate pass fee that has been charged. 
"Our standard firewood is approximately 15 to 17" in length. We offer other lengths, for example 12"-14" and up to 22" as a special order.
There is a surcharge for special orders – $25."
You Can Pick Up Your Firewood
Kiln-dried and other firewood offerings may be picked up at our Production Facility at 547 Schinger Avenue, Ridgeland, SC 29936.
Normal operating hours for firewood pickup are:  8:30am to 4:00pm Monday thru Saturday, except for holiday closures.
Directions:  Schinger Avenue is immediately to the east of the Riverwalk development on Highway 170, about a half mile to the east of our previous location at 1081 Okatie Highway (170).
Proceed down Schinger Avenue to the end where the road turns to gravel.  Turn left and there is a large sign to our production facility and warehouse.
Carolina Morning Firewood is known for their outstanding professional service and the quality of their firewood.